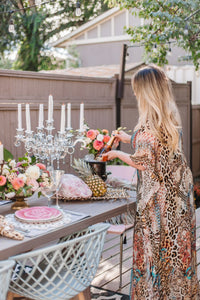 Summer is the ultimate season for outdoor entertaining – stunning lakeviews, Okanagan sunshine, the wild smell of orchards in our backyards, and of course our neighbourhood access to world-class wine, farm-to-table organic ingredients, and amazing talent to help us throw epic private parties. Whether your ideal backyard shindig hosts 3 of your closest friends or a group of fifty – step it up a notch and take advantage of all the Okanagan has at its fingertips to impress, dazzle and delight your attendees.
I always like to have something intriguing at the front gate, foyer or first place people arrive. Whether you have a fabulously-decorated bar cart with your signature cocktail upon arrival, an entertainer that fits with your theme ushering people inside the party, or simply a gorgeous bouquet of wild flowers and a sign on your foyer mirror that sets the mood – make sure that first impression is a wow-factor.
Consider having your party catered – even if it's an intimate guest list. As hosts – we often get so busy and overwhelmed ensuring everything is perfect in the kitchen that we forget to actually spend time with our guests; laughing, sharing stories and  being fully present, calm and engaged with them. We have so many AMAZING chefs – try asking your favourite restaurant chef if they'd come over for a special event, call a private chef or caterer, or hire a helper to take some of the pressure off of you. Servers and bartenders are another luxury that you can afford (students looking for extra cash are a perfect option) to help not only serve food, but also clear dishes and keep the kitchen area clean throughout the evening. You will thank me for this later, I promise!
Whatever you're serving, be it a glamorous brunch, a 6 course dinner, or just appies and cocktails – put some thought into the presentation of each and every culinary delight on the menu. Not only is this so much fun to do, your guests will be wowed by the extra effort. My favorite go-to for summer parties – edible flowers! Frozen into ice cubes, sprinkled on top of a salad, or delicately placed on top of dessert, they instantly dress up dishes and drinks (begonias, dianthus, lavender, pansies, and roses are my top choices but there are hundreds!). 
Look for organic design elements to incorporate (ie: forage for free on a Summer evening hike) and stick to a theme. Consider hiring 'entertainment' for an added sparkle. For Summer events, I love to hire local henna artists, musicians, sommeliers, photographers, and floral crown makers but the list of Okanagan-based talent is endless so whatever your theme is – you'll be able to find someone perfect. Some unique party ideas I'll be trying this Summer at home are a Backyard Movie Night Under the Stars, a Summer Solstice Soiree, an ice-cream Sunday party, and a Girls-Only Spa Day Poolside. Happy Summer!
Leave a comment (all fields required)
Comments will be approved before showing up.